Many years ago, The Ties Program implemented Project Kindness via our sister organization World Ties, a nonprofit organization that supports children and families in Ties' countries.
During Cambodian Ties 2008, en route to Mekong Island, we stopped at a small, remote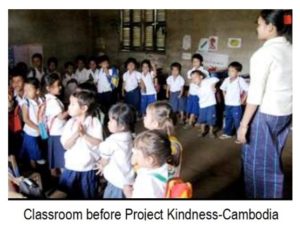 island called Arey Ksat. As soon as we met the school children there, I knew we had a starting place for Project Kindness-Cambodia. The 2010 Cambodia Ties families raised more than $20,000 and hand delivered tables, desks, chairs, bookshelves, books, school supplies, and school snacks, among other things.
Subsequent groups have been involved in several other projects, including funding a new library and administration building. All these things lead to Cambodia creating sustainable environments for learning.
Cambodia Service Trip participants will visit the island schools in Cambodia and see first-hand how a little kindness makes a big impact! Plus, we've teamed up with two other organizations for our service trip and are excited about helping meet the needs at Sustainable Schools International and Roteang Village.
Project Kindness-Cambodia moving forward….
Via our colleagues in Cambodia, we have determined the needs our service trip can fulfill.
Arey Ksat Wish List
There are 186 kindergarteners and another 908 primary students on the island of Arey Ksat, and precious little in terms of playground equipment. We are hoping to deliver 6 swings and two slides. Additionally, we'd like to provide a bookshelf, more small chairs for the children, three teacher's desks, and school supplies for each child.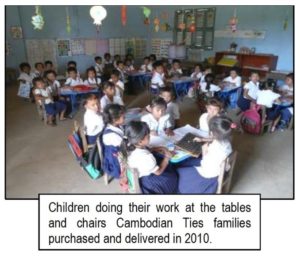 Mekong Island Wish List
An hour or so away, on a very small island, there are 180 students. There is no well at the school for clean water. We'd like to see if we can help remedy that by sending someone to the school to assess the possibility, and if possible, provide a well. The school is also in need of basic school supplies like pencils, pens, crayons, notebooks, reading books with pictures, posters depicting numbers, the Khmer alphabet, fruits and animals. And like Arey Ksat, they need swings and balls for the children to play.
Sustainable Schools International
SSI, founded by adoptive parents Kari and George Grossman, began by educating children in rural areas of Cambodia. Forty of those students have now earned their way into college in Phnom Penh, and live at SSI's Leadership Academy. They live long distances from their families, but are excited to be learning skills they can bring back to their villages. The problem is, they have no adequate beds to sleep in.

This is where The Bunk Bed Project comes in. With your help, we will be purchasing 20 bunk beds and mattresses for the SSI students, who are very excited about this improvement. Imagine the long-term effects—a better night's sleep, better focus in college classes, a better skill set, a better job, a more stable family life, better healthcare opportunities, and all of this taken back to the rural areas of Cambodia.
It starts with something as basic as a bed.
Roteang Village Overseen by The Sharing Foundation
Its mission is to help meet the physical, emotional, educational and medical needs of orphaned and seriously disadvantaged children in Cambodia. The Sharing Foundation's orphanage in Roteang village, built in 2000, is home to toddlers, pre-teens, teens and young adults. Some of the nannies who work here also cared for adoptees who have traveled with The Ties Program.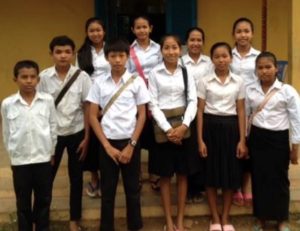 In addition to supporting Roteang's mission, we'll take a gift for each child, and we're hoping that will include a Khmer comic book! Many of the kids here are teens or about-to-be teens, and all reading (even comic books) improves literacy skills.
Donations are being accepted by World Ties. a 501(C)3 and are tax deductible. Please donate via a Cambodia Service Trip participant or by sending a check payable to World Ties to 2825 N. Mayfair Rd, Ste. 102, Wauwatosa, WI 53222.